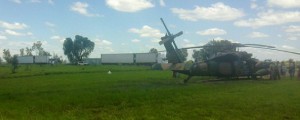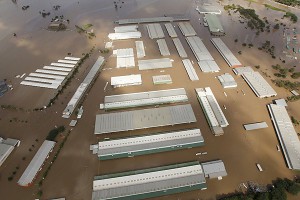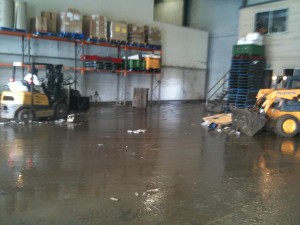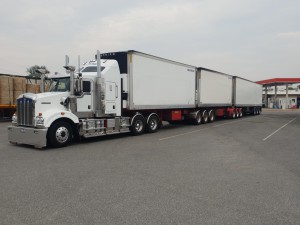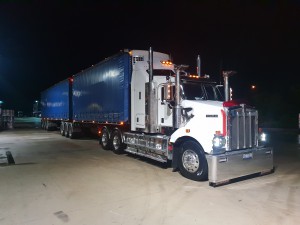 In the 2011 floods we managed to run twice weekly, there has been only 1 load in over 5 years that we have not been able to find a way to get food products to Emerald and surrounding towns. The picture to the left is where we had to run two of our B Doubles all the way up to Mackay then across to Clermont and down to Capella. We could not get through the last 50km but had organised for them to be unloaded by 3 Military Blackhawks 1 pallet at a time, with the use of our local refrigerated trucks and staff in Emerald and many local volunteers, we worked well into the next morning where everyone managed to get their products at the right temperature.

During this flood event for over 5 weeks we run every direction as far west as Mitchell and up through Tambo to Barcaldine and back into Emerald and up the coast as far as Mackay and across until Rockhampton was cut off. All costs of running the extra distances were absorbed by us over that period, which was the least we could do with the hardship being experienced by the region at the time.

Our local staff during this period had given up a lot of their own time and with the use of our forklifts and rigids helped many people evacuate to higher ground as waters rose. Not long after Emeralds biggest recorded flood event, we were also experiencing excess water issues ourselves, we also worked through the night with our trucks evacuating our warehouse of all equipment possible. When we thought we were finished we started receiving calls, so headlined back in through the flooded roads and filled every one of our trailers with our neighbours equipment and moved them to higher ground. Within two day we had organised the use of another warehouse and was loading freight to our customers in Central Queensland. It was almost a week of solid cleaning before we could operate in the market again, under generator power for lighting for almost a month.
Now, thanks to our loyal customers and hardworking employees we have grown and are able to run our fleet interstate while still providing the same amazing service we are known for.